Andrea Gallier
NZ Adventure Chapter 2: The World's Smallest French Press
The first couple weeks of any adventure are always so FAST. One second you're wondering if you'll make any friends at all and the next a week has gone by and you've got a whole new group of people to stalk on social media.
Highlights of the past week and a half have included exploring Auckland, a Maori 'Haka' performance at the Auckland Museum, The Bay Of Islands, Cape Reinga, and SWIMMING WITH HORSES (still not over how cool that was...more on that later).
I started the week with an orientation through IEP (International Exchange Programs) about working and living in New Zealand. I then did a welcome week with a group of about 20-30 other people. We were mainly American and British (apparently there are so many German tourists in New Zealand that it was rare that we had none in our group- at least according to our presenters).
Some of my new friends (Photo by Kate at IEP)
The day after orientation, we visited the Auckland museum to see a Maori cultural performance, which included the famous "Haka", the Maori war dance. I could definitely see how the wide-eyed expressions and aggressive stances could be intimidating before a battle.
We then made our way to the Bay of Islands via the most annoying bus driver ever (he kept shushing us every ten seconds even though we weren't talking). Along the way we stopped at the Puketi Kauri Forest- home to some of New Zealand's largest Kauri trees. We also stopped on Ninety Mile Beach briefly to soak in its music-video ready scenic shore and boogey-boarded down sand dunes.
Ninety Mile Beach (Photo by Me)
We then made our way to the northernmost point in New Zealand, Cape Reinga, where the Pacific Ocean and Tasman Sea meet and Maori spirits depart. I could have stayed there for hours- really, it was so beautiful I could have sat there and stared at the water forever.
Another fun adventure was Horseback riding in Paihia and getting to swim with the horses. We rode them around for a while (side note: my horse randomly decided to lay down in a field with me on her and I managed not to fall off so yay for that) and then our guide took off their saddles and we rode them bareback into the water. It was probably one of my coolest experiences in NZ yet. IT WAS SO FUN!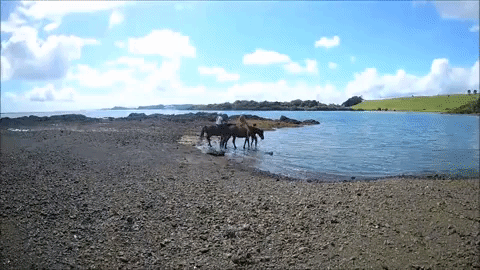 The last thing that was a part of the IEP welcome week was an overnight cruise where we got to shoot paintballs at a moving target (I missed all three shots), fish, and night kayak. The defining moment for me was laying back in my kayak to see the stars. Of course, no picture can do that moment justice...
There's still so much that can go wrong, but I'm starting to see that the unknown is also one of the best things about this journey. The freedom to go anywhere I want, along with the ability to change my plans in an instant and tag along with new friends is so freeing. The downside of this is not being forced to go somewhere you didn't want to go and finding something begrudgingly amazing. Of course you have the freedom to meet and travel with other people- traveling solo just means you have to decide for yourself to go on potentially misguided or dumb adventures with your new friends (because sometimes these turn out to be the best).
The other downside is that it's your own damn fault if you miss the bus or sleep in- you've got no one to blame but yourself...
Anyway, the first couple weeks are weird. You pack away home into this weird, distorted box in the back of your mind and romanticize the shit out of it. You let go of everything you don't like about home and bury that deeper, and then buy the world's smallest french press because you need your goddamn American "plunger" coffee and you can't keep buying Starbucks. You worry about money and and what the hell you're doing but know in your heart that it is and will be worth it. You see something beautiful- like the stars above the ocean at night- and think "maybe I'm here for just this one moment." And then one day you fall into a rhythm and everything makes sense for a while...
...I'll let you know when I get there.